This post may contain affiliate links which means I make a small commission if you purchase something using those links. I only link products that I trust and love.
This refreshing cold pressed green juice is made using fresh and delicious ingredients that will help you kickstart your day!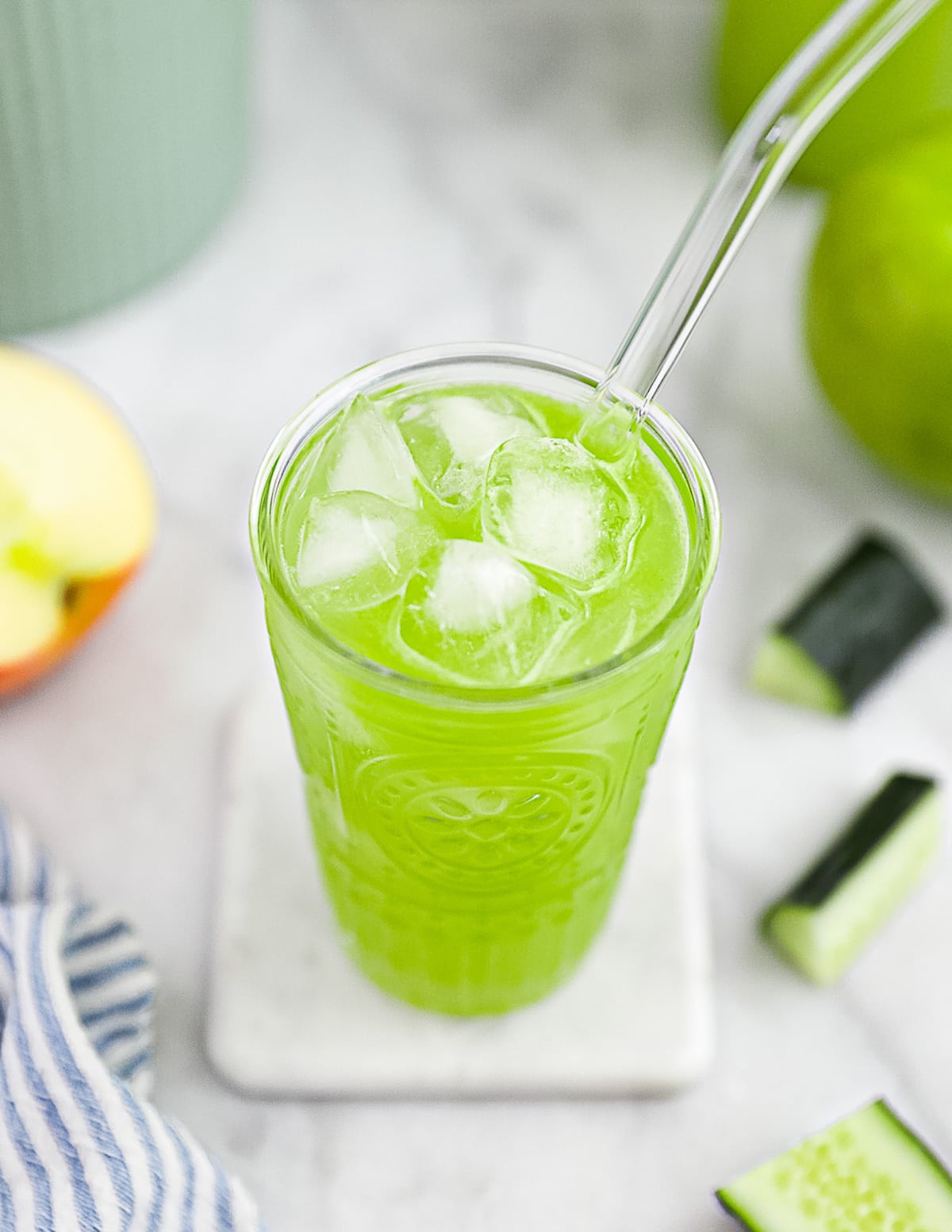 This green goddess juice is so sweet and refreshing, I love drinking it several times a week along with my breakfast.
It's a great part of a balanced diet and can also be enjoyed as a refreshing treat.
I also love pairing this easy green juice recipe with a power bowl or salad at lunchtime for a nutritious meal.
Ingredient Notes and Substitutions
I try to use organic ingredients as often as possible. This helps to ensure that the foods I am using are fresh and delicious!
Pineapple: Making green juice with pineapple is a fantastic way to add a higher water content and sweet flavor!
Apple: I used a honey crisp apple because they are my favorite, but you can use any type of apple that you love best.
Celery: Another key ingredient in this celery apple green juice. I really try to use organic celery if at all possible, and be sure to break the celery ribs off the stem and wash them thoroughly before juicing.
Ginger: Adding half an inch of fresh ginger root will add really refreshing flavor to your vegan green juice. It's okay to omit this ingredient if you don't have any on hand.
Kale: I really like to add kale to my homemade juices because of the great nutritional benefits. Again, try to use organic if at all possible, and wash it before juicing.
Cucumber: Like the ginger, adding cucumber to your juice is a great way to add light and refreshing flavor. Cucumber also has a high water content, so it will give you more volume.
See recipe card below for quantities.
How to Make Green Juice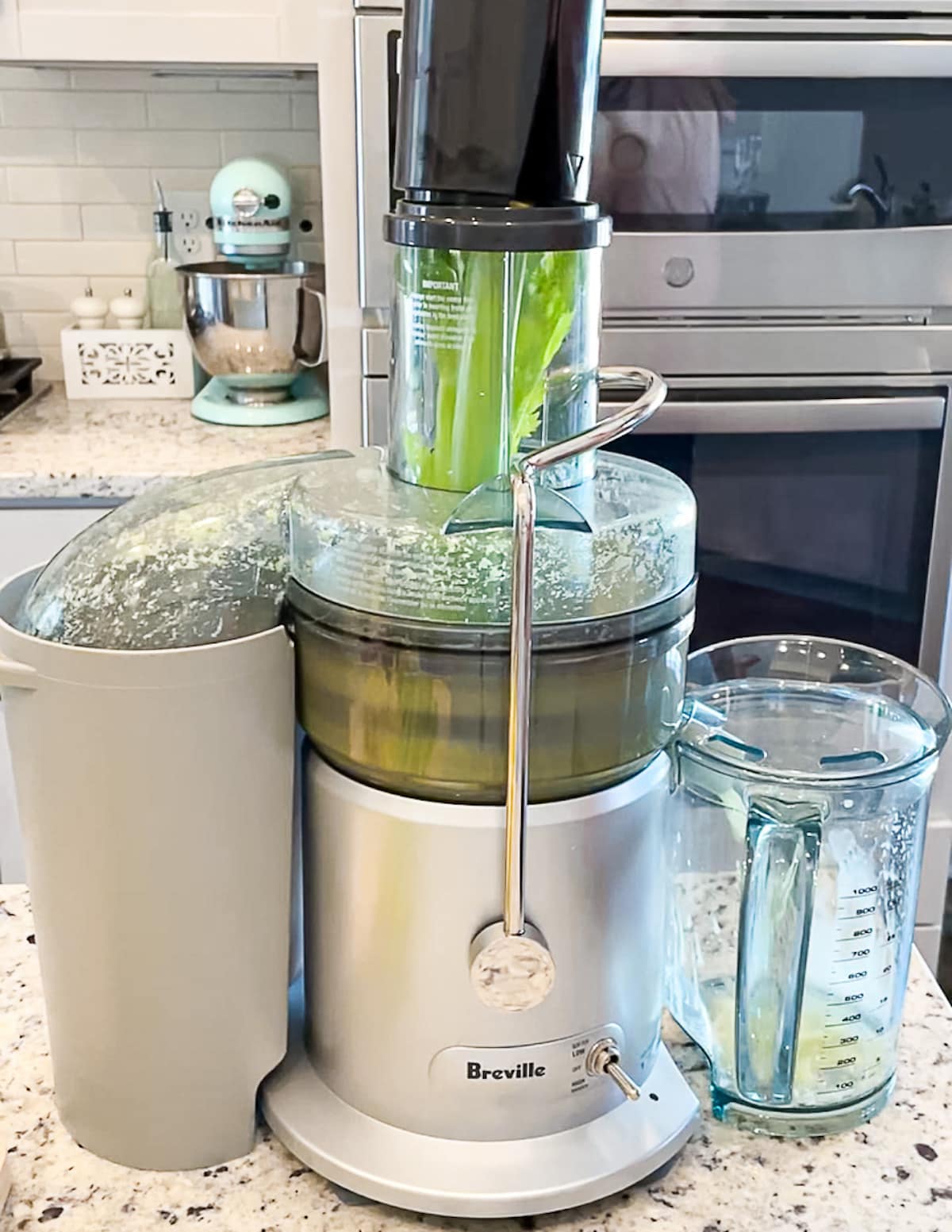 This is the juicer that I use and love to make my green juice recipe!
I always start by washing all of my produce.
When you make your morning green juice, you can use most stems (like your celery stems) and really utilize a lot of the produce.
Cut your ingredients into chunks and be follow the instructions for your juicer.
ALWAYS read the full equipment instructions and safety manual before using any kitchen equipment to stay as safe as possible.
Then transfer your juice to a cup, top with ice, and enjoy!
You can store any leftover juice in the fridge in a covered container for up to three days. The juice might separate while in the fridge, so give it a good shake or stir before serving.
Can I make juice without a juicer?
YES! You can absolutely make this green juice recipe without a juicer.
All you need is a blender and a nut milk bag. Add all of your ingredients to a blender with a small splash of water or coconut water. Then you'll run the blender until everything is well blended.
This is a really easy way to make Vitamix green juice at home.
Transfer contents of the blender to a nut milk bag or cheesecloth. Then squeeze over a large bowl to strain the juice out without the pulp.
These are the blenders that I highly recommend:
Juicing vs. Blending
There are different pros and cons to making a juice vs smoothie.
Overall, you will get more fiber and nutrients from making a smoothie rather than juice.
Making juice is delicious and can hold up in the fridge longer and better than smoothies do. I honestly feel it's a personal preference and view juice as more of a yummy treat, and view smoothies as more of a nutrient-dense option.
Here is a great article I found about some of the health benefits of juicing.
Making homemade juice rather than drinking store bought juice typically contains fresher ingredients and no preservatives.
If you're looking for a green juice for weight loss or just general homemade juice recipes for weight loss, you can always use this green detox juice recipe as a resource.
What to do with juicing pulp
If you're wondering what to do with juicing pulp that you have leftover after making juice, I have two great options for you!
Save vegetable scraps and make homemade vegetable broth or stock. I have another article my blog for my Vegetable Broth Recipe that you can use your scraps for! Use the discarded ends or stems of your veggies that don't make it into your juicer.
Another option for the actual pulp is to compost.
Be sure to try some of my refreshing breakfast recipes next:
Green Juice Recipe
This refreshing cold pressed green juice is easy to make using fresh and nourishing ingredients.
Equipment
1 Juicer

See above for my juicer recommendations
Ingredients
2

cups

pineapple

1

apple

1

bunch

celery

½

inch

ginger root

2

stems

kale

1

cucumber
Instructions
Wash and prep all ingredients.

Follow instructions on your juicer to juice all ingredients.
Notes
If you don't have a juicer you can use a blender and a nut milk bag to make your homemade juice. See notes above for additional instructions and recommendations. 
This juice can be stored in an airtight container in the fridge for up to 3 days. Stir or shake well before drinking. 
Nutrition